Lumia 520
Lumia 520 is one of the latest Windows Phone 8 smartphone by Nokia. It is a budget smartphone released alongside the medium range Lumia 720. Although the price is very cheap at around $140 (RM450) , it is packed with many features and has a cool design that in my opinion, does not look cheap at all.
I have bought it recently just to try it out and honestly, this is my first experience of using Windows Phone OS. I chose a black Lumia 520 and it was very hard to find, well at least during the time when I want to buy it.
Lumia 520 is the fifth Lumia smartphone that uses Windows Phone 8 as the operating system. Lumia 520 comes with five different colours. Yellow, cyan, red, white and black.
Specifications
Display : 4.0 inches IPS LCD multitouch capacitive touchscreen (16M colors)
Resolution : 480 x 800 pixels (~233 ppi pixel density)
Glass Protection : Scratch-resistant glass
Memory : 8GB internal with 64GB microSD support
Operating System : Microsoft Windows Phone 8
CPU : Dual-core 1 GHz
RAM : 512MB
GPU : Adreno 305
GPS : A-GPS support and GLONASS
Camera : 5 MP Autofocus with HD Recording
Data : HSPA+, 21.1 Mbps
Price : $140 - $155 (RM450 - RM500)
$199 price
Because of the cheap price, Nokia had to remove few features on the device such as the front camera, camera flash, and NFC. Nevertheless, Lumia 520 has almost all the basic functions of other Lumia models.
Battery life
The battery life of the Lumia 520 is just average, this is due to the 1430 mAh battery.
According to my test, which includes music listening, using the camera and browsing the internet, the battery still has 42% remaining after a day.
If you want a detail test, you can have a look at the battery test by GSMARENA below.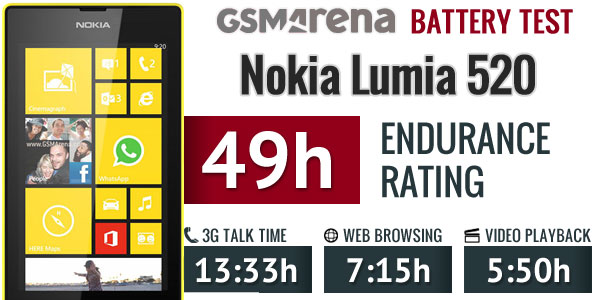 Scratch-resistant glass
Lumia 520 surprisingly has a scratch-resistant glass and it seems to be able to handle the sharp nail and knife pretty easily. Once again, it is quite surprising for a cheap phone.
Camera
Honestly if you like to take photos or videos in low light, then this smartphone is not for you. However, it does a very good job in a good lighting condition. The camera lacks flash, Carl Zeiss Optics lens and Image Stabilizer.
You can see the sample photos and video below.
Video sample
Photo samples
Wrap up
Lumia 520 is suitable for anyone who want to try out Windows Phone OS or to anyone who wants to try something different than iOS and Android.
Features that are packed with Lumia 520 such as the dual-core processor and 8GB internal memory is something that we do not see yet on any other smartphone of the same price range. Therefore, these make Lumia 520 a great competitor to other budget smartphones out there. If you are looking for a cheap and beautiful smartphone, Lumia 520 may be perfect for you.